Du 15 décembre 2021 au 22 mai 2022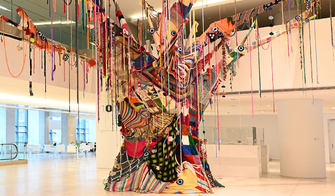 EMST Foyer, Musée national d'art contemporain
Athènes
L'Arbre à palabres , haut de six mètres est fait de nombreuse pièces en tricot, crochet et tissage réalisées par des personnes d'âges et origines sociales différents.
The palaver tree, is usually found in the centre of African villages and is a place where people meet and exchange ideas, elders share stories with children, and where important decisions concerning the village are discussed. In Greece we could compare the Palaver tree with the Platane tree found in Greek villages where people of all ages gather and partake in the daily social life.
Stephan Goldrajch was born in 1985 in Ramat-Gan, Israel. He lives and works in Brussel, Belgiums. The artist's practice creates links between people and social interaction between them. His work combines textiles, texts, drawings, installations and recycled materials. Goldrajch often starts "from deficiencies to rewrite a story, recast it and create an elsewhere". It is not uncommon for him to work with people outside the art world to conjoin their existence and his practice, thus generating a new creative dimension. His projects are part of his personal approach to ancestral techniques and traditions as well as his interest in human relationships, from which he draws inspiration to give a new dimension to heritage.