Du 27 fevrier au 3 mai 2020
Aga Khan Centre Gallery
10 Handyside St, Kings Cross
London N1C 4DN
Royaume-Uni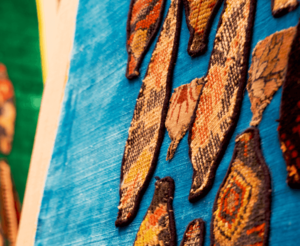 L'exposition donne un aperçu de sa pratique influencée par l'héritage culturel iranien.
Bita Ghezelayagh transforms old woven textiles and eastern carpets into new pictorial objects and works of art. She uses traditional embroidery techniques along with found materials to transform disused textiles, giving them a renewed sense of life and an altogether, different purpose. Carpet squares rethreaded in part with coloured wool are adorned with simmering mirror borders to give a jewel like aesthetic. While her new Off Cut series reveal deconstructed forms that resemble templates for body armour that may have once been used.
Bita Ghezelayagh lives and works in London. She was born in Florence, Italy but is of Iranian descent. She studied architecture at the Ecole Nationale Supérieure d'Architecture de Paris La Villette, where she received an MA. She worked for the Association of Iranian Calligraphers in Tehran and was art director of three notable Iranian films, including The Pear Tree by Dariush Mehrjui.