Du 17 juillet au 4 août 2019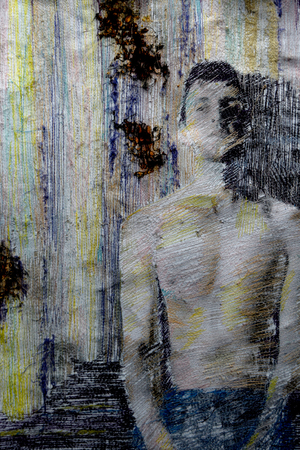 Neuhaus Castle
Haslach
Autriche
Textile exhibition at the ETN conference.
The theme of the exhibition, the Garden of Eden, left room for very different views and approaches.
The artists have taken the aspect of sustainability very seriously in their submissions, and have often used recycled or found materials, such as recycled cotton pulp, pine cones, palm trunk fibers, magazine paper, horse hair, old clothes, old hospital robes, silk scraps of old kimonos, old handkerchiefs, plastic from the sea, plastic bags, recycled yarn, earth and much more.
The variety of works, which were not only focussed on textile art, but also on textile design and clothing, a latitude that was expressly desired in the tender. My hope is that broad, cross-technology tenders against the fragmentation of the textile art scene (e.g. in tapestry here and patchwork there) will help, because we need a joint effort of all textile designers to get out of the niche existence of textile art. Although trend designers might predict that textile craftsmanship is on the rise – it has not yet penetrated to the great museums and galleries.
For the exhibition "Garden of Eden" 451 works from 38 countries were submitted and prepared for the jury. The applications were very different and covered the whole range of textile design. Most of the works (67) were in the embroidery-lace category, which is not surprising, since many textile art exhibitions often use embroidery technique today. This may be due to the fact that this technique can be worked very individually as well as very accurately and slowly. It resembles a handwriting and corresponds to the desire of the artists to express themselves in a very personal and precise way (quasi the textile counterpart to the "slow food"). Then followed the categories printing-dyeing-painting with 56 works, quilt-patchwork-appliqué with 53, garment-sewing-pleating with 50, tapestry-tufting with 48, mixed media with 43, weaving with 42, felting with 21, paper with 18, jacquard weaving with 17, other techniques with 17, crochet-knitting-knotting with 15 and photo-video with 4 submissions. Remarkable is the large number of tapestries in traditional technique (also a very slow process!) as well as the renewed interest in the tufting technique, which since recently one can learn in Haslach, by the way.
Finally, 81 works by 78 artists from 30 countries were selected for the exhibition. A further 12 artists were invited by the curators to participate, so that more than 100 works from 34 nations will be on display on the wonderful premises of the castle.
During the selection, particular care was taken to ensure that the exhibition reflects the diversity of the works, and that the visitors can be just as surprised by the works as the jury was.