Du 6 octobre 2019 au 7 mars 2020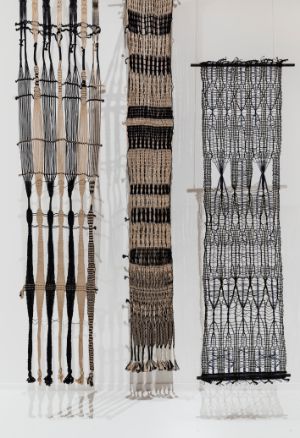 608, avenue New York • Sheboygan
WI 53081 • 920-458-6144
Lenore Tawney (1907-2007) se classe parmi les artistes les plus influentes du mouvement des fibres d'après-guerre. Connue pour ses sculptures monumentales tissées, Tawney pratiquait également le dessin, le collage et l'assemblage.
Le travail de l'artiste, entre 1946-1997, est le sujet de 4 expositions au John Michael Kohler Arts Center. C'est l'une des plus grandes expositions rétrospectives de l'œuvre de Tawney à ce jour.
Improvisational, experimental, and deeply personal, Tawney's work redefined traditional notions of weaving as she manipulated fiber into abstract sculptural forms and complex woven structures. She held a deep belief in mystical philosophies which ran through all aspects of her life and work. Artists, scholars, and friends revered Tawney for the complete integration of her art and her life including a series of New York City lofts she occupied from the late 1950s until her death in 2007. Her exceptional oeuvre can be seen as one cohesive body of work.
Anchoring the exhibition is an evocation of Tawney's studio, underscoring the relationship of the artist's space to her creative practice. Reuniting a selection of her key works—weavings, drawings, and collages—with objects that once populated her work spaces reveals her processes and inspirations, exposing relationships and dissolving boundaries between the material surroundings she constructed for herself and the art she made there.
Ephemeral and Eternal: The Archives of Lenore Tawney
September 15, 2019–February 16, 2020
Tawney developed a deeply personal visual vocabulary intertwining language with found images, feathers, flowers, and stones. Illuminating key moments in the artist's career as well as her everyday life and close friendships, Ephemeral and Eternal explores the correspondence, journals, artist books, photographs, audio interviews, and ephemera drawn from manuscript collections at the Smithsonian's Archives of American Art and the Lenore G. Tawney Foundation.
Even Thread Has a Speech
September 1, 2019–February 2, 2020
Even Thread Has a Speech is a group exhibition that explores Tawney's lasting impact on eight contemporary fiber artists with new, site-specific installations commissioned by the John Michael Kohler Arts Center as well as 2-D and 3-D works. Artists in the exhibition include Indira Allegra, Julia Bland, Jesse Harrod, kg, Judith Leemann, Anne Lindberg, Michael Milano, and Sheila Pepe.
Cloud Labyrinth
August 18, 2019–January 19, 2020
A study in contrasts, Cloud Labyrinth comprises thousands of individual, tiny threads suspended from a canvas panel or "ceiling." Although composed in a strict square grid, the diaphanous work is yielding, responding to any atmospheric movement with a slight swaying. Created in 1983 for the Lausanne International Tapestry Biennial in Switzerland, the work has not been shown since 1999. Part of Tawney's Cloud Series, which she began in the 1970s, the work fills an entire gallery, occupying a space that is 16 feet high and 24 by 18 feet wide. The work exemplifies the evolution of Tawney's practice into the complete dissolution of the loom while maintaining an unmistakable connection to weaving.