Du 4 novembre 2018 au 27 janvier 2019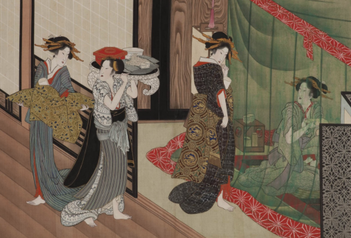 Art institut of Chicago
111 S Michigan Ave, Chicago
IL 60603, États-Unis
Bien que l'exposition ne présente pas de pièces textiles, le textile représenté dans les peintures est fascinant.
Painting the Floating World features over 150 works from the 17th through the 19th century. Each painting offers an exquisite glimpse of the past ; as a whole the exceptional collection reveals ukiyo-e's rich connection to trends in fashion, beauty, and cultural life over centuries.
In the 17th century, Kyoto, Osaka, and Edo (now Tokyo) were Japan's thriving cities, complete with bustling entertainment districts where ukiyo, or the "floating world," was born. People of all ranks shared in the enjoyment of the floating world's attractions—brothels, kabuki theatre, and seasonal festivities. Artists of the period captured this popular phenomena in ukiyo-e, or "pictures of the floating world." Over the last 25 years, Roger Weston has assembled an outstanding collection of ukiyo-e paintings—masterpieces by the most famed artists of the day. This exhibition at the Art Institute Chicago, the first public showing of his comprehensive ukiyo-e painting collection in the United States, showcases the sheer beauty of floating world painting and offers an exclusive view of the urban amusements of early modern Japan.