Du 22 septembre 2017 au 7 janvier 2018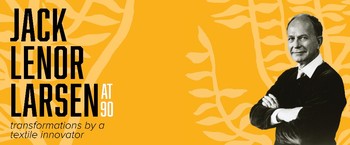 Goldstein Museum of Design | Gallery 241
241 McNeal Hall, 1985 Buford Avenue South
St. Paul MN
USA
Opens with a 90th birthday party for and attended by Mr. Larsen himself on September 22, 2017. This event and exhibition are free and open to the public.

For 45 years, Larsen led Jack Lenor Larsen Incorporated in the production of fabrics for the interior environment. In later years he produced carpet and furniture under the Larsen Carpet and Larsen Furniture names. Larsen took his design inspiration from around the world, visiting scores of countries to learn traditional hand-weaving and loom techniques, which he interpreted in new and innovative ways. In 1997, Jack Lenor Larsen Incorporated was purchased by the English firm Colefax and Fowler. On the occasion of the purchase, Larsen's entire archive was donated to the University of Minnesota (Elmer L. Andersen Library Archives and the Goldstein Museum of Design [GMD]) and Minneapolis Institute of Arts.

The textiles in this exhibition are informed by Larsen's mastery of craft techniques, technological innovation, and inspiration from global design traditions. The inclusion of drawings, correspondence and production samples makes possible the intriguing narration of the creative process. The Goldstein Museum of Design is proud to contribute to a better understanding of the diversity and complexity of textiles created during the latter half of the 20th Century.

To accompany the exhibition, a free panel discussion will be held on Thursday, November 2, 2017. Panelists will discuss their experiences working with Mr. Larsen and his textile innovations.