Du 20 Janvier au 25 Mars 2017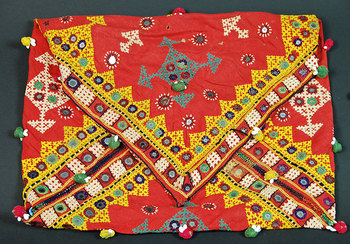 Brunei Gallery
SOAS University of London
10 Thornhaugh Street
Russell Square
London WC1H 0XG
Une exposition de broderies traditionnelles venues des contrées bordant l'Indus, Afganistan, Turcoman, Sogdiana et Asie Centrale.
For political and economic reasons it was from these regions, that the people and their textiles, travelled long distances, to move and settle in new areas. As it was in the tribal and semi-tribal societies that these embroideries flourished, they became a record of their history, social customs, folk tales and myths as hereditary wisdom and skills were passed down from mother to daughter in an attempt to guard their techniques and traditions in textiles.
This exhibition brings together several collections to display the high-level of abstraction and sophistication with which these pieces were made. Marian Bukhari, the Guest Curator, narrates a story of the communities who embroidered a peoples' history of the Silk Road; presenting the context for their art and a description of their identity. The exhibition showcases examples of traditional local weaving and embroidery, as well as examples of the finer fabrics available from the ports of Cambay and the markets of Samarkand.
Une série de lectures accompagne l'exposition.