Du 24 Juin au 2 Septembre 2017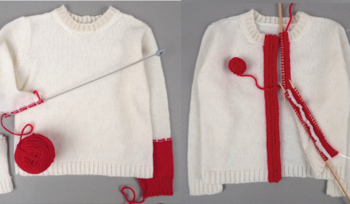 Rugby Art Gallery and Museum
Little Elborow Street
Rugby, CV21 3BZ
Dans sa première exposition solo majeure, Twigger Holroyd vise à partager et à promouvoir des techniques de recyclage : elle utilise ses compétences et ses connaissances en tricot pour réparer et retravailler des articles existants, les réinvestir.
Known for pushing forward the concept of reknitting with her own process of 'stitch-hacking' (where the stitches of a knitted fabric are reconfigured to retrospectively insert a new structural design), Amy developed this practice during her PHD at the Birmingham Institute of Art and Design before finishing in 2013. Through knitting she aims to explore a 'radical openness' in the fashion system by tinkering with everything that surrounds her on a day-to-day basis, such as drawing on the structural similarities between some gothic architecture and the craft of crochet.
Sustainable fashion is a hot topic on everyone's lips these days, as more and more designers are opting for slower, more ethical approaches to their industry. And it's not just the professionals who are advocating for a more sustainable means of production –consumers are also being encouraged to remain conscious of its environmental impact, with many now choosing to engage in the rising popularity of up-cycling through workshops and craft communities online.
https://www.rugby.gov.uk/ragm/homepage/92/units_of_possibility