Du 16 au 18 Septembre 2016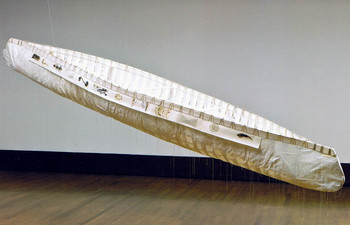 Fashion and Textile Museum
83 Bermondsey Street,
Londres SE1 3XF
Présentation de dix artistes textiles canadiens à l'occasion du Festival du Design de Londres. L'exposition se tient en même temps que le Bermondsey Street Festival 2016, samedi 17 Septembre.
Curated by Shauna McCabe and Sarah Quinton, Greater Toronto: New Artist Textiles from Canada is a landmark project showcasing contemporary artists commissioned to extend their interdisciplinary explorations in the form of printed fabrics. Printable on demand, the fabrics will be available to the public here for the first time outside of North America. There has been a resurgence of interest in artist textiles, following publication of new research in the book Artists' Textiles 1940–1976 by Geoffrey Rayner, Richard Chamberlain and Annamarie Phelps and the exhibition Artist Textiles: Picasso to Warhol at the Fashion and Textile Museum in 2014, buoyed by interest in mid-century modern. Combining art and industry, textile production facilitates creative investigation at the boundaries of craft, fashion and design. Highlighting the spirit of design in everyday life, Greater Toronto brings together highly visual works with critical appeal, each exploring global conversations about contemporary culture and collective landscapes.
The London Design Festival is an annual event, held to celebrate and promote London as the design capital of the world and as the gateway to the international creative community.