Jusqu'au 31 décembre 2018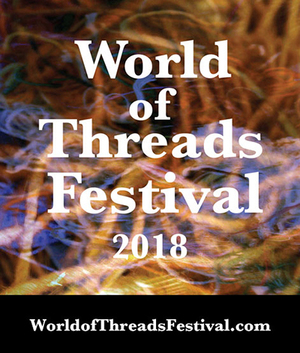 Queen Elizabeth Park Community and Cultural Centre
Oakville
Ontario
Canada
Si le festival se déroule jusqu'au 25 novembre, les expositions à Display Area Gallery et Corridor Galleries se tiennent jusqu'au 31 décembre.
The festival is one of the most vibrant fibre arts festivals in the world. We showcase contemporary fibre and textile art in all forms. Festival 2018 features 303 artworks by 65 artists from Canada, Denmark, England, Hungary, Netherlands, Norway, Russia and USA. Most of the artwork is for sale. Festival 2016 was a huge success with attendance over 60,000 who came out to see the show.
The festival is not-for-profit organization with charitable status. It's focused around Queen Elizabeth Park Community and Cultural Centre in Oakville, Ontario, Canada and organized and curated by Dawne Rudman and Gareth Bate.
"Something that's different about World of Threads is that we let the art guide us. We don't have predetermined curatorial ideas or impose our concepts on the artists. Each festival is a blank slate. Shows develop entirely out of the submissions received. To find our thematic exhibitions we look for connections between thousands of artworks from around the world. Over time the shows emerge. We also choose the strongest bodies of work for solo shows."