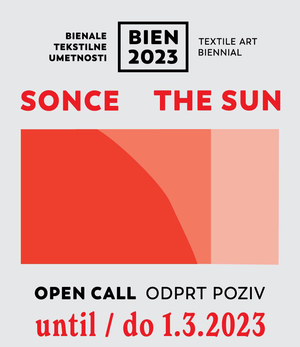 International Textile Art Exhibition du 31-05 au 10-08 2023, en Slovénie, sur le thème : "The Sun" pour les artistes, les designers et les chercheurs du domaine textile.
The effect of the Sun on our daily lives is so great that various human cultures have always included it in their myths and legends, and many polytheistic religions around the world have understood the Sun to be one of the gods. The Sun is so fundamental for survival, but at the same time a factor of danger. Living environments become too dry, there is a lack of food and water, and so the Sun becomes something we can fear, especially in summer. Learn more : https://layer.si/bien/en/open-call-2023/
With its programs of textile art and industrial design, Textile Art Biennial BIEN presents itself biennially with exhibitions and projects that reflect on heritage, conservation and sustainability. BIEN creates new contemporary expressions and encourages interdisciplinary artistic collaboration with projects and residencies. At the exhibition artworks by international and domestic artists are presented and special focus is given to the best works of current domestic and international student production. BIEN understands that the future of art is also in the public and digital space.
The selected artworks will be exhibited indoor in the industrial space Globus in Kranj and outdoor in the open-air museum Castle Garden in Škofja Loka.
Artists or art groups from all over the world who submit one work not older than three years can participate.
Submitted works should approach the central theme: the Sun; works should be created primarily in the medium of textiles or a medium that imitates textiles in its material or technical context.
Submitted works should not weigh more than 20 kg (including assembly elements).

The costs of the shipping of the artworks are at the responsibility of the participant, the cost of the return transport will be covered by the organizer.
Application form : https://forms.gle/Jy8gi3cppgFcRzKM8